No justification for UniSuper's  gas investments
4 September 2020
UniSuper's recent decision to divest from three companies heavily exposed to thermal coal mining came shortly after the fund's Chair told thousands of members calling for fossil fuel divestment: "The outlook for thermal coal in a de-carbonising world is dismal".
Our latest analysis shows UniSuper should apply similar thinking to its largest investments in undiversified oil and gas producers. Over the last 10 years, these 'pure play' oil and gas companies have performed even worse than the three coal mining-related companies UniSuper has divested from.
Far from being the 'transition fuel' UniSuper makes it out to be, gas must be rapidly phased-out if we are to meet the Paris climate goals. There is simply no room in a Paris-aligned carbon budget for the major gas companies UniSuper invests in to achieve their massive expansion plans. These companies threaten to burn even more cash on projects that cannot go ahead if we are to avoid the worst impacts of climate change.
Use the form on this page to tell UniSuper to dump its investments in pure play gas producers.
UniSuper and Climate Risk Webinar
You can also raise your concerns and questions directly with UniSuper's Chief Investment Officer John Pearce at a Melbourne University event, 'UniSuper and Climate Risk Webinar' to be held on 17 September. The event will include a panel of experts discussing climate risk and UniSuper's approach. Find out more and register to attend here.
No future in dirty gas
Send a message telling UniSuper to divest from gas producers
This page contains factual information that is notintended to imply any recommendation or opinion about a financial product.
Pure play gas producers underperform over last 10 years
According to its last Climate Change Report, UniSuper's three biggest investments in companies whose sole business is producing gas and oil are Woodside Petroleum, Oil Search, and Santos. 
Over the last 10 years, a portfolio made up of these three 'pure play' gas and oil producers would have provided -3.28% annualised returns to shareholders (-28% accumulated return from 1 July 2010 to 30 June 2020).
This is even worse than a portfolio of the three thermal coal mining-related companies UniSuper has divested from, which would have provided annualised returns of -0.13% over the same period (-1% accumulated return).
Both of these fossil fuel portfolios performed far worse than the broader Australian share market, with the ASX 300 providing 7.71% annualised returns (110% accumulated) over the last 10 years.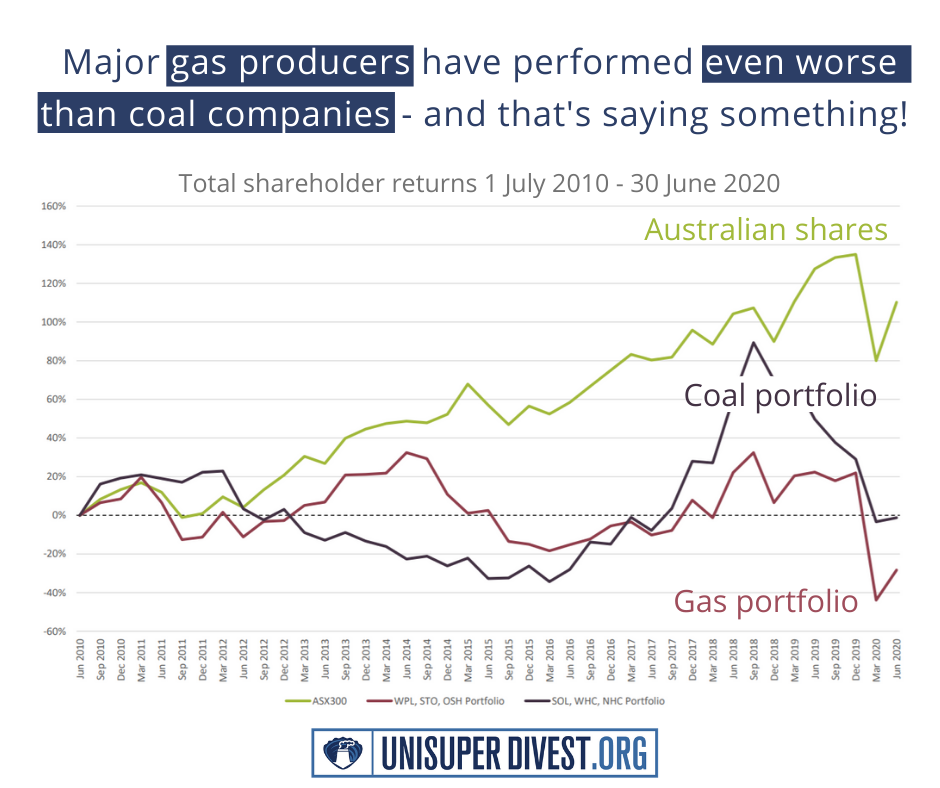 Total shareholder return of weighted portfolios:
ASX 300 v Pure play oil & gas producers (Woodside Petroleum, Santos, Oil Search) v Thermal coal-related companies UniSuper has divested from (Washington H Soul Pattinson, Whitehaven Coal, New Hope Group)
1 July 2010 – 30 June 2020
Gas impeding the low carbon transition
UniSuper has confirmed its belief that "gas will be an important transition fuel to a low carbon world," and also claims "In order for natural gas to fulfil its role as a transition fuel, infrastructure will need to be built."
However, a group of leading Australian scientists, led by UniSuper Divest supporter Will Steffen, has recently summarised the latest climate science to confirm that, in order to meet the Paris climate goals, "there is no role for the expansion of the gas industry".
"Existing and planned fossil fuel infrastructure is more than sufficient to push the world past 2°C, pushing even the upper bounds of the Paris Agreement's temperature goals well out of reach." 
"To meet the upper Paris goal ('well below 2C'), we must achieve net zero emissions by 2040-2050. This requires a rapid phase-out of existing fossil fuel infrastructure, leaving no room for expansion of the gas industry."
"The time has passed for any new fossil fuel infrastructure, including the proposed expansion of the gas industry in Australia."
When you're in a hole, do you keep digging?
Despite the climate reality oulined above, each of UniSuper's three biggest gas company holdings have plans to massively expand gas production.
According to its last Climate Change Report, UniSuper invests around $1 billion in Woodside Petroleum. Woodside's gas expansion plans would cause greenhouse gas emissions at a scale that dwarf those of many entire countries. According to Woodside's own figures, Scope 1, 2 and 3 lifetime emissions from Burrup Hub projects could be up to 6.88 Gt CO2-e (gigatonnes of carbon-dioxide equivalent), nearly 13 times Australia's total 2019 greenhouse gas emissions.
UniSuper's second largest pure play oil and gas investment, Oil Search, wants to double production through it's liquefied natural gas (LNG) expansion projects in Papua New Guinea and Nanushuk oil project in Alaska.
Meanwhile Santos' highly controversial Narrabri gas project would add about 5 Mt CO2 of direct emissions each year, when Australia needs to drastically reduce its annual emissions. The company is also eyeing off major carbon bomb projects including fracking in the Northern Territory, and offshore production at the Barossa gas field off the coast of Darwin.
"Total GHG emissions from the use of Narrabri gas would approach those of coal" – Dr Andrew Grogan, April 2020
Indices and portfolios:
S&P/ASX 300 (total return) index

('Australian shares')

Coal portfolio: Washington H. Soul Pattinson, Whitehaven Coal, New Hope Group

Gas portfolio: Woodside Petroleum, Oil Search, and Santos
Coal portfolio comprises the three ASX 300 coal mining-related companies UniSuper recently (August 2020) confirmed it has divested from. Gas portfolio comprises UniSuper's three largest investments in ASX 300 pure play oil and gas producers, as listed in the fund's November 2019 'Climate Risk and Our Investments' report.
Performance indicator: Total return
(The total return represents the rate of return from investing in a company's stock over a period of time, accounting for capital gain as a result of price performance and the dividends accrued over the investment period.)
Sources and calculations:
S&P/ASX 300 (total return) index: Calculated and provided by S&P Global

Coal and gas portfolios: Total return calculated by Market Forces based on share price and dividends data from Refinitiv Eikon
It was assumed that $100,000 was invested in each index and portfolio at the beginning of FY2010 (1 July 2010). Total return performance for each index and portfolio was examined for the period FY2010 – EOFY2020 (30 June 2020), representing 10 years of investment.
Coal and gas portfolios were weighted according to the market capitalisation of each company as at the investment date (1 July 2010), as follows:
Coal portfolio: Whitehaven (32%), New Hope (39%) and Washington H. Soul Pattinson (29%)

Gas portfolio: Woodside (62%), Santos (21%) and Oil Search (17%)

(Market Forces did not calculate weights for the ASX 300 index, which is calculated independently by S&P Global)
It is assumed the investor was entitled to all dividends during the investment period, and that dividends were reinvested in more shares of the same portfolio at the market price, consistent with the S&P/ASX 300 (total return) index methodology.
All dollar values are in Australian dollars (AUD).
| | | | | |
| --- | --- | --- | --- | --- |
| Portfolio | Buy price ($) | Sell price ($) | Total return (accumulated) | Total return (annualised) |
| ASX 300 | 100,000 | 210,212 | 110.21% | 7.71% |
| Coal portfolio | 100,000 | 98,714 | -1.29% | -0.13% |
| Gas portfolio | 100,000 | 71,666 | -28.33% | -3.28% |
About this campaign
UniSuper DIVEST is a project of Market Forces, supported by UniSuper members across Australia. The campaign is designed to support signatories to take ownership of the campaign and organise to share it widely among fellow UniSuper members. Together we will take this campaign into the media and right to the doors of UniSuper.
UniSuper DIVEST recognises and supports the important work of the National Tertiary Education Union (NTEU) in pushing for climate action, including motions passed in October 2019 declaring a climate emergency and calling on UniSuper to divest from fossil fuels. This campaign supports these efforts and seeks to demonstrate widespread support for fossil fuel divestment among UniSuper members.
Market Forces' research has identified the big Australian companies that are undermining climate action by expanding the scale of the fossil fuel industry and whose future is tied to worsening the climate crisis. These are the companies the open letter calls on UniSuper to divest from.
UniSuper should not be investing any of its members' retirement savings in these climate-wrecking companies. While the fund offers investment options that exclude some fossil fuel investments, these options represent a tiny proportion of assets under management and require members to actively seek out and switch into them. Climate action is effectively quarantined to those niche options and the members that are able to find their way into them. Meanwhile UniSuper continues to invest billions of dollars in fossil fuels through mainstream investment options. UniSuper, as a whole, is still overwhelmingly backing companies that are driving us towards runaway climate change.
Learn more about UniSuper's climate performance.
This campaign provides a platform for members to demand UniSuper divests from fossil fuel companies that are undermining the Paris Agreement's goal of limiting global warming to 1.5°C.
Market Forces is an affiliate project of Friends of the Earth Australia. Learn more at marketforces.org.au/about