UniSuper is investing our retirement savings in climate destruction
While Australia's academics, scientists and researchers work on climate change solutions, our super fund is investing our retirement savings in the companies causing the problem.
As the superannuation fund for Australia's academics, scientists, researchers and university employees, UniSuper should be leading investor action on climate change. Instead, the fund continues to invest billions of dollars worth of members' retirement savings in fossil fuel companies that are driving the climate crisis.
It's time for UniSuper to become a leader and ditch its investments in the coal, oil and gas companies that are undermining climate action by expanding the fossil fuel industry and pursuing business strategies consistent with the failure of the Paris Agreement on climate change.
UPDATE 20 August 2021
UniSuper's latest Climate Risk and Our Investments report has revealed the fund has been quietly pulling investments from oil and gas producers. It has significantly sold down its stakes in climate-destructive companies like Woodside, Oil Search, Santos and Enbridge. The fund halved its investment exposure to fossil fuels over the past year, equating to well over $2 billion being pulled from the sector in a year.
The fund now has no pure-play (undiversified) fossil fuel producers listed in its top 50 Australian holdings, and it appears any remaining exposure to these companies is only through passive investments. UniSuper does, however, retain significant investments in BHP and South32, which are diversified mining companies with significant fossil fuel activities, and APA, a gas pipeline company with big expansion plans.
UPDATE 6 July 2021
UniSuper opens its doors to the general public. Having previously only been available to workers (and their families) in the higher education and research sectors, the $100 billion fund has dropped this restriction and will now accept new members from all industries and sectors. Recent changes to super fund laws also means many university employees will soon have more freedom to choose their super fund.
UPDATE 30 April 2021
A number of fossil fuel divestment and climate-related motions were put to a vote at a meeting of the UniSuper Consultative Committee. The most successful of these, calling for the fund to become completely fossil fuel free by 2030, received 35% support. Considering the fund lobbied hard against these motions, this represents a significant rebuke of UniSuper's current approach to climate action and fossil fuel investments. If you attend a university you can email UniSuper to find out who your Consultative Committee members are by emailing [email protected].
Find out more about the Consultative Committee here.
UPDATE 3 December 2020
UniSuper's latest climate risk report leaves a gulf in near-term climate action that undermines the fund's claims of alignment with the goals of the Paris Agreement.
Read our analysis and take action.

UPDATE 16 September 2020
UniSuper has just released details of its updated climate change policy. Sadly, without a clear plan to reduce exposure to all fossil fuel production and infrastructure to zero, UniSuper's new climate policy fails to live up to the fund's own promise to prove itself an "industry leader" on climate change.
Learn more and take action here.
UPDATE 4 August 2020
After months of escalating pressure from thousands of UniSuper members, we have just seen our first signs that member pressure can yield results. 
UniSuper has divested from a small group of coal mining companies. This is far from what more than 12,000 campaign supporters have asked for – a complete exit from all coal, oil and gas companies undermining the Paris climate goals – but represents an important step towards that goal.
Congratulations to everyone who has helped drive this important first win in the UniSuper Divest campaign.
UPDATE 16 May 2020
We've received a response to our open letter. Read the letter from UniSuper's Chairman.
Sadly, the response rejects the open letter's fossil fuel divestment request, without much in the way of justification. So we have a plan to step up the pressure and issue a challenge to UniSuper: how could dirty fossil fuel investments possibly be in members' best interests?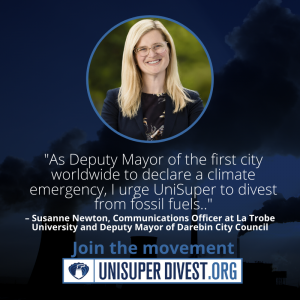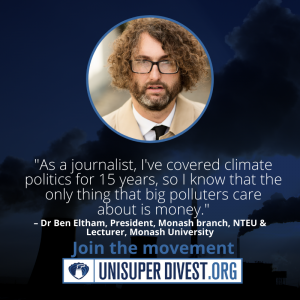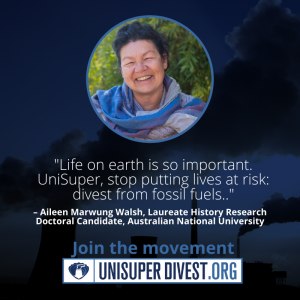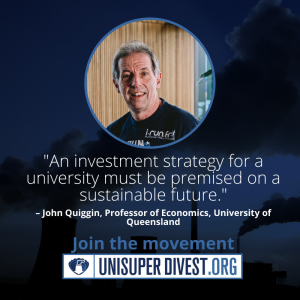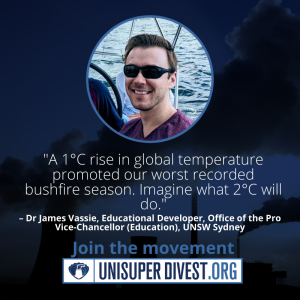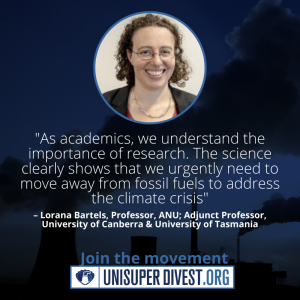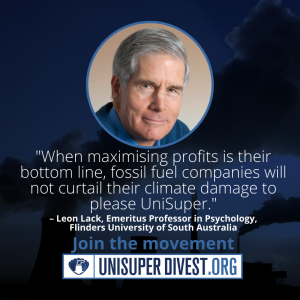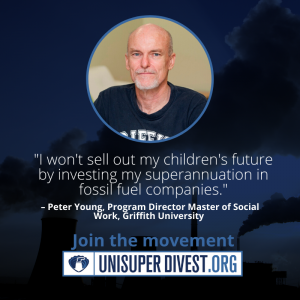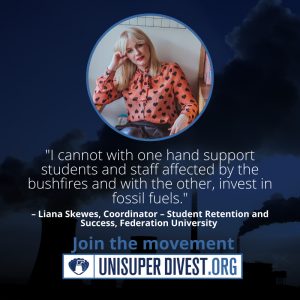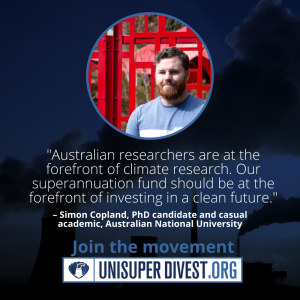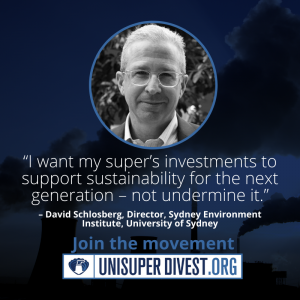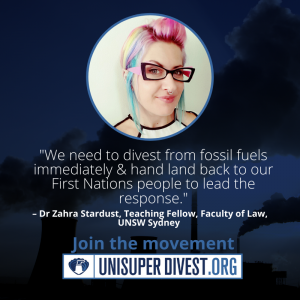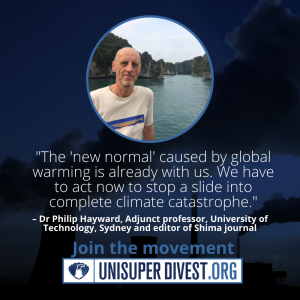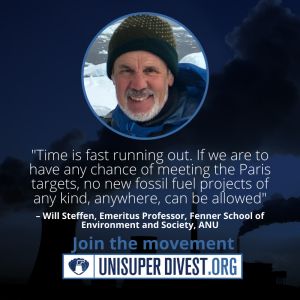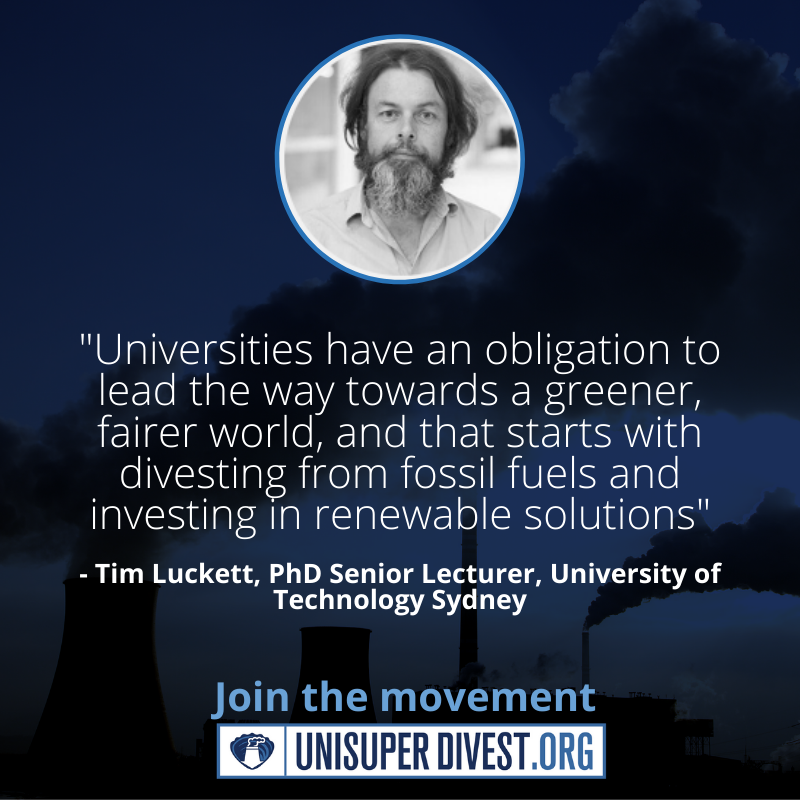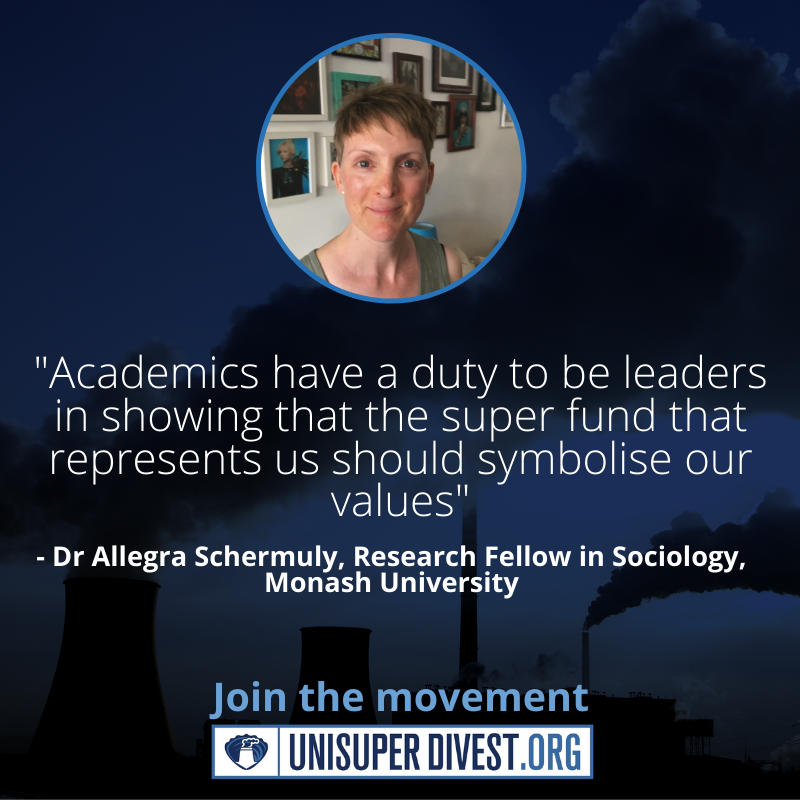 About this campaign
UniSuper DIVEST is a project of Market Forces, supported by UniSuper members across Australia. The campaign is designed to support signatories to take ownership of the campaign and organise to share it widely among fellow UniSuper members. Together we will take this campaign into the media and right to the doors of UniSuper.
UniSuper DIVEST recognises and supports the important work of the National Tertiary Education Union (NTEU) in pushing for climate action, including motions passed in October 2019 declaring a climate emergency and calling on UniSuper to divest from fossil fuels. This campaign supports these efforts and seeks to demonstrate widespread support for fossil fuel divestment among UniSuper members.
Market Forces' research has identified the big Australian companies that are undermining climate action by expanding the scale of the fossil fuel industry and whose future is tied to worsening the climate crisis. These are the companies the open letter calls on UniSuper to divest from.
UniSuper should not be investing any of its members' retirement savings in these climate-wrecking companies. While the fund offers investment options that exclude some fossil fuel investments, these options represent a tiny proportion of assets under management and require members to actively seek out and switch into them. Climate action is effectively quarantined to those niche options and the members that are able to find their way into them. Meanwhile UniSuper continues to invest billions of dollars in fossil fuels through mainstream investment options. UniSuper, as a whole, is still overwhelmingly backing companies that are driving us towards runaway climate change.
Learn more about UniSuper's climate performance.
This campaign provides a platform for members to demand UniSuper divests from fossil fuel companies that are undermining the Paris Agreement's goal of limiting global warming to 1.5°C.
Market Forces is an affiliate project of Friends of the Earth Australia. Learn more at marketforces.org.au/about